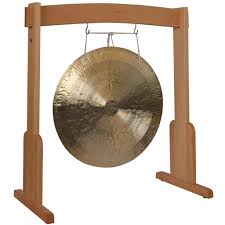 I was working at an Adult Day Service and we had a drummer coming in once a week to teach the staff, whomever wanted to learn, how to facilitate drum circles, so when he left they could carry on.
One day, we were loading in all his drums and instruments, which meant everyone knew what was going to happen and they would start to form a circle on their own. We would ask everyone if they wanted to participate. Some always had an enthusiastic Yes! And some wanted to do it one week and not the next. One lady, we will say Mrs. B normally did not attend on drumming day. Her daughter was there with her and they had just finished up a cooking class. When Mrs. B saw all the drums and percussion instruments her face visibly changed and she started moving her walker to the circle. Then I overheard this:
"Mom, That is going to get VERY noisy. " said the daughter. "Mmm-hmmm", said Mrs. B as she took a seat in the circle. "You're not going to like this." the daughter said emphatically. "Okay." Mrs. B said quietly. Then to me and the drum facilitator, "My Mom is going to get very upset and maybe angry if she stays for this drumming." We both shrugged and said, "Okay." I asked her to sit outside the circle toward the kitchen area where she wouldn't influence her Mom and she could watch. "You will see. This is not going to end well."
When Mrs. B was asked which drum she wanted she pointed to something that he had never brought before. A huge gong. We said Okay! And wheeled it over to her. She took the mallot and starting tapping the gong very lightly as we were handing out the other drums. She continued this and has such a mischievous grin on her face as she would tap louder and softer. It was perfect background music.
As everyone began to play she would tap the gong lightly and when she was pointed at and encouraged to bang the gong, boy did she. The first time was too loud but she started laughing afterwards and kept laughing every time she hit it. With every strike she got louder and louder. She was so happy.
Her daughter sat off to the side laughing and then crying. She pointed at her watch that she had to get back to work and mouthed to me, " I was wrong. Who knew?"
You will see that we push knowing the person when it comes to daily life, but sometimes you need to invite and welcome someone who has never done storytelling or never done fishing or whose daughter says she will not like it. A person who will not paint alone may like to paint with you. A person who will not gather pretty fall leaves may do so with a grandchild. Or a person may say no to cooking with you a dozen times but then one day say, "I want to help." Don't give up. Keep Trying.